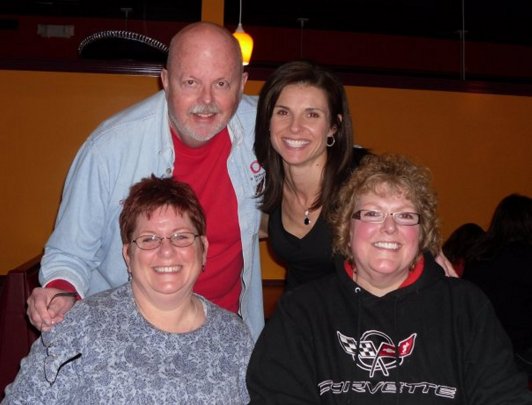 We did not always look like this
@ 003 = About What You Can Do:
Never be shy in attempts to help another survivor. You cannot tell in advance where that will lead you.
This Website started out as a Face Book page to connect these three girls together and it worked. The four of us met at my home for a couple of years (every Thursday night.) Then moved to one of their homes for another few years. The FB page disappeared as our bond grew.
Then I teamed with one of them to kick-start a survivor group with a broader reach. We met in a local counselor's office then moved to a church. As life progressed, one had to relocate out of state, one had to gain employment, and I got old, just stuff that happens as life moves along.
At the startup, my partner thought it a good idea to start a Website and offered the name findinghopeaftersuicide. I was shocked to find it was available in dot com, dot org, dot net, dot info and on and on. So I registered it and here we are a couple years later.
What started out to attract survivors in Middle Tennessee . . . well, I get messages from Australia, New Zealand, Netherlands, Ireland, England, Hungry, Hawaii . . . goodness, and I never imagined it.
Now the extended plan is to get these 24 posts edited for spelling, grammar and punctuation . . . and relevance. I would hope it could be used as a way to get folks to kick-start a support group where ever you live. I get messages from contacts looking for a support group in their area and I am unable to help them.
In the USA we have an organization AFSP.Org. The American Foundation for Suicide Prevention. They maintain directories for locations by ZIP. Try it to find a support group. If you don't find one start one.
Trust me, it is NOT rocket science to attract a following, consider it. Few survivors do well on their own. A team, well that is a whole different story. We have to get to work for ourselves and for those we come in contact with. No one is going to knock on your door (at least with what it takes to help you construct a new life . . . after suicide.)
Blessings, dJ
FHAS-AboutWhatYouCanDo-V1-(GE)-0727.2017
@ 002 = About Enduring Memories
In the early days following the suicide, things are said and seen that can never be "Un-Said or Unseen."
At those times our reasoning is, let's say, dysfunctional. It seems all too common that we remember the worst parts of every encounter. There is a good reason for that since we immediately reject or judge everything as dysfunctional. The months that follow the event are spent on sorting through all the negative debris. I personally believe all survivors do.
Outsiders will only pick up our frowns or smiles since they cannot see what is inside us. Most of us go into what I call "Performance Mode." We take on an acting role that masks all the chaos that is churning in our hearts.
Is there any solution for this? I don't know of one. It just seems to be part of our human nature. We just do it. Some are better at acting than others. It is common for those we meet to judge us. It is what we all do, few exceptions.
I don't know a great solution for this. It is easy to get trapped in the blame game since everyone is blaming someone, something and commonly GOD.
Another everyday trait is for people to say something about everything. Opinions are sometimes well thought out and other are spur of the moment or maybe like spinning the wheel.
Looking back I constantly change my mind over which is worse scenes or sayings. I think it mostly depends on my mood. All the while we do (or can) have some control over the way we remember things. It gets easier as you age and memory wains.
Here is another place that forgiveness (and yeah, it is possible to develop forgiveness) is key. I did not believe it in the early years either. But I have finally come to realize it is common for folks to speak without engaging even one brain cell. And honestly, I do that myself more often than is helpful.
I don't know a better word to use than "stupid." Spending time trying to figure out some of the things people say is a waste. Confronting them is even worse. And both parties walk away more wounded than before.
There is no way to un-hear what is said or how you interpreted what you heard (or think you heard.) I had to consciously decide to let this kind of stuff go. You will make a lot more headway smoothing the waters than stirring them up. Probably a lot easier for me than most of you. I often think "I cannot believe I just said that."
As the years have passed the more common troubling issues for me is avoidance and/or rejection. I have reached the point where I appreciate folks that engage me - and I can go way thinking (only momentarily) that felt good or goodness that was just plain crazy. Not being avoided is better to me. Probably due mostly to all those people in my life that simply disappeared.
Here is just another place it is up to us to educate those we can and let the rest go. We cannot right the world single handed. So, I suggest you pick carefully what you take on since it can potentially make you a better person and this can rub off on your friends . . . in time.
And, you can be more at peace. blessings, dJ
AboutEnduringMemories-V1-(GE)-0726.2017
001 = Should I Move or Stay put?
Initially, there was the thought that going to a new place would separate me from all the trauma represented here. I am not persuaded that moving or staying provided significant relief.
Over the long haul, if you are anything like me, you can convince yourself – and express it openly – that things are a certain way. Then time passes and you encounter endless situations that will coincide or conflict with your previous positions. It is important to keep this in mind when you listen to someone else. What they tell you today may change significantly the next time you see them. That is the way I experienced it.
Finding lasting peace requires more serious thought, which you are incapable of initially following the loss.
I have known survivors that never returned to their home following the suicide. And I have listened to them and been convinced –under the circumstance – that I would have done the same thing. The violent nature of the departure weighs in heavily in this case.
For me, my wife took her life in our garage, at home. Sure, it was intensely troubling at first. I cannot explain why, but in time I was able to separate the garage from the house in my mind. I did not use the garage for months, but then I picked up with my contract teaching and was away a lot. But then winter arrived (about 8 months later) and I began to park the car inside again.
As time moved along I began not to focus on it. I guess I was thinking I had passed that crisis, however, I never lingered there.
Then coming home one night, I was in the midst of a serious phone conversation. I hit the open button, drove inside – and since it was cold – closed the door and continued to talk. The garage door opener retained the inside light briefly – allowing you to get inside. In this case, the conversation was still progressing when the light timed out. Instantly I learn that I had not passed the crisis as I thought. I never closed the door again until I was ready to go inside. I never sit in the car with the door closed again. I suppose we all develop quirks.
In the succeeding years, I convinced myself that I could NEVER leave this place. Kathleen, my closest friend in all this told each other we would never move away from each other. So I began to fix the place up to live out my retirement years "at home."
I was moving into my sixth year when Kathleen peacefully passed away sitting in her easy chair at home. Then three grandchildren 350 miles away came along and I realized I would never really know them if I stayed. I could only know about them. So I moved. For that fact alone, moving was good for me.
It is not all good. I moved away from neighbors and friends that I had shared life with for over 3 decades. I came to Tennessee thinking I could recreate that here. I now realize I do not have enough life left to rebuild that here.
But along the way, I have found PEACE and I have crossed the 18-year marker. It can never be the same . . . but it is good.
Blessings, dJ
FHAS- Should I move or Stay Put V2-0523.2017 (from November 27th, 2016)