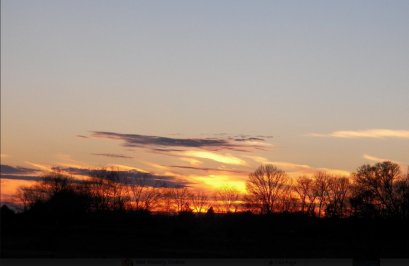 May 15th, 2012 - A moment in memory now
After Sudden Cardiac Arrest:
An un-ordinary Thursday that started off slow, which most of my mornings do now, at almost 72 years old. I planted a couple of things, did some weeding, picked-off some bagworms and admired the tulips, while recognizing their decline is imminent. A couple of phone calls and off to Franklin to do some measurements for a shelf project.
My shelf project had a pleasant glitch today, in that my son was home with time for lunch. While eating at Sub-Way, Michael begins to share a morning cry regarding his Mom.
Rebecca took her life over 13 years ago, now. He went on at length about enjoying a particular piece of classical music and how pleased Mom would be to hear this coming from him. Rebecca was a music person, not in the contemporary sense, but in intense, studied, focused, traditional "approved" ways. She aspired to be an opera singer and go to Julliard School of Music in NYC at one point in her life. After talking about his Mom's love of classical music and how he had changed, he shifted to my lackadaisical ways and wanting me to be more intent on caring for my aging issues.
All the while I could see in my peripheral vision a fellow about his age at an adjacent table. He was apparently caught up in our conversation because his expressions were in sync with Michael's dialogue.
Then it struck me, how much I would love to have had times like this with my own Dad. For whatever reasons, Dad and I just never seemed to come together. It would be an extended painful analysis to try and figure all that out.
Listening to stories from my Dad's sisters I think he inherited his disposition from my Grandfather Johnson.
All the while, he expressions from the adjacent table suggested this fellow remained caught up in our conversation and ignoring the electronic device he was holding.
My trip home included a stop and chat session with a friend about his children and a memorial service he attended earlier in the day.
By then it was time for my music lesson, which did not come off due to some scheduling conflict. BUT!
These events allowed me time to arrive at Rippavilla early for my writing group.
After setup time had concluded, I strolled down this slope to watch the sun dropping into the tree line. I clicked off a few pictures and just enjoyed beauty of the evening before returning.
We had a very informative video about developing our writing craft. Our time included instruction and casual interactions with fellow attendees.
One conversation with a young dad shifted to a story about his youngster, under two years old. This Dad at some length described an observation of his son's learning to pull up and then being uneasy about getting back to the floor. Discovering that once he was standing (say holding on a coffee table) he could turn and grasp adjacent furniture and move on to things that attracted him. Once at the new location well, the issue of getting back to the floor would reappear. Is this a big deal, not really you might think. Actually, it is because it is maybe a once in a lifetime observance that he may never get to see again.
It all seemed to flow with our educational video. The presentation was about many things I had never heard or realized before because my lackadaisical ways had me not paying attention. Now, I do have time to focus and learn.
aa, douglas J written 30 March 2012